"We all want experiences that we can be proud of, but what we fail to realize is that the best moments may be happening right now."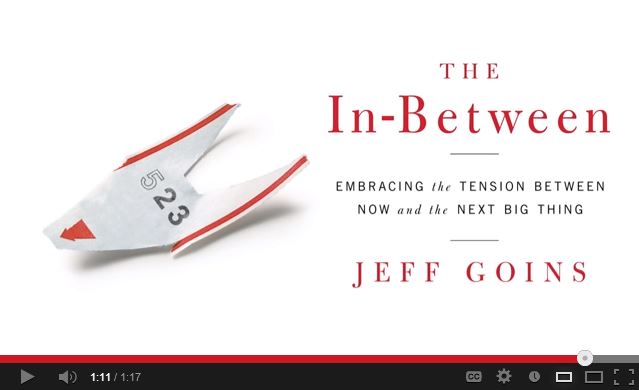 In his newest book, The In-Between, Jeff Goins writes, "Maybe the good stuff isn't ahead or behind us. Maybe it's somewhere in-between." [Tweet that]
(Take a few seconds and watch the book trailer – it's the best I've ever seen!)
On Saturday, I will celebrate my 40th birthday. There are moments in every life that seem to demand a pause – for reflection on the past and to envision a future that can be. For me, turning 40 is one of those moments.
Looking back, I've done a lot of waiting in my life. More than I ever expected. There have been many delays, detours, and postponements. Looking forward I see more of the same – more waiting. More in-between. And that's ok, because the in-between is "a place to slow down. Where we learn to be present in an increasingly noisy world. It's the place where we learn to let go." And live.
So after 40 years, my only regret is…
…that I haven't lived more in the moment.
So many things distract us from living life in the moment – success, work, projects, productivity, problem-solving, social media, email, even our dreams. Looking for the next big breakthrough – in our work, in our career, in our finances, with our kids, in relationships.
When will it happen? robs us of what's happening now.
The neighbors
I used to be one of those people who'd zip in the driveway and lower the garage door while getting out of the truck. In fact, most places I've lived, I never even knew the name of our neighbors next-door.
It's different now. A couple of years ago, our family started doing something that we'd never done before – we started hanging out with our neighbors. Weird, huh?
A few days ago, one of our neighbors asked us to hang out with them on their boat. To be honest, I had a lot of work to do – and I was tired. But I knew I needed to spend time with my wife and our children. And I knew I would be encouraged by spending time with our neighbors. So we did.
For a couple of hours my daughter and I bounced all over the lake in the wake of the boat tightly gripping the handles of a big round tube. (No – there's no video.) And I laughed more than I have in a long time.
Yes – I got behind on a couple of projects. And, yes – I was sore the next day. But living in the moment was worth it!
Here are 3 things you'll learn from Jeff's book…
1. Life is the in-between.
Life is not the series of highs that we dream it to be. It really is an adventure – a journey – of ups and downs between occasional mountaintop experiences.
To live in the moment, you'll have to slow down. It's impossible for you to live in the past or in the the future – all you have is now. So you might as well take your time.

While you're waiting for the experiences of a lifetime, you're missing the life in your experiences. [Tweet that]
2. Make the most of every moment
Wherever you are be all there. Say, No, to restlessness. No, to busyness. No, to worry. No, to shortcuts. No, to regret. No, to hurry. And, Yes to today – to right now.
There's really no good reason to be in such a hurry anyway. Because you can't get from where you are to where you need to be without traveling the path that you are on. [Tweet that.]
You have a choice – you can try to shortcut the detours and bypass delays, or you can embrace the growth that happens in the in-between.
3. Everyone has a story
When I started writing several years ago, I primarily wrote to help me process what I was experiencing – in my work, in me, and at home.
Yes – it's a mess sometimes. But people aren't that interested in hearing how great I am. They're far more likely to relate to my latest slip-up. My experiences matter to others – and they tell me. Every day. My mess has become my message.
I've decided – I'm going to live more in the moment. If it's not fun I'm not doing it!
We don't get to choose how many days of life we have left, but we can choose how we spend them.
Someone needs to hear your story – to know you don't always have it all together. To know they're not alone.
Embrace the wait. Appreciate the delays and postponements. Some things in life are worth waiting for.
Get your free copy
Jeff's book releases tomorrow, August 1, 2013. It's one book that you're going to want to read over and over again. It's that good!
You can still pre-order it now, and get all kinds of bonuses for free. ($240 worth, to be exact!)
Or you can get it FREE today only! I'm giving away 100 free copies of Jeff's book to the first 100 people to complete these 3 simple steps TODAY -
Leave a comment on this post

answering the question below.

Tweet this

or

Share it on Facebook

. Or both!

Then,

complete this form to receive a mailed copy of the book.

[Update: Wow! They went fast! All of the free books have been claimed. Remember, you can still

pre-order it today

, and get $240 worth of

all kinds of bonuses

.]
Question: So, what have you learned from waiting? Share your thoughts in the comments.