I've received some great feedback on my NEW One-on-One Meeting Template since we released it last week.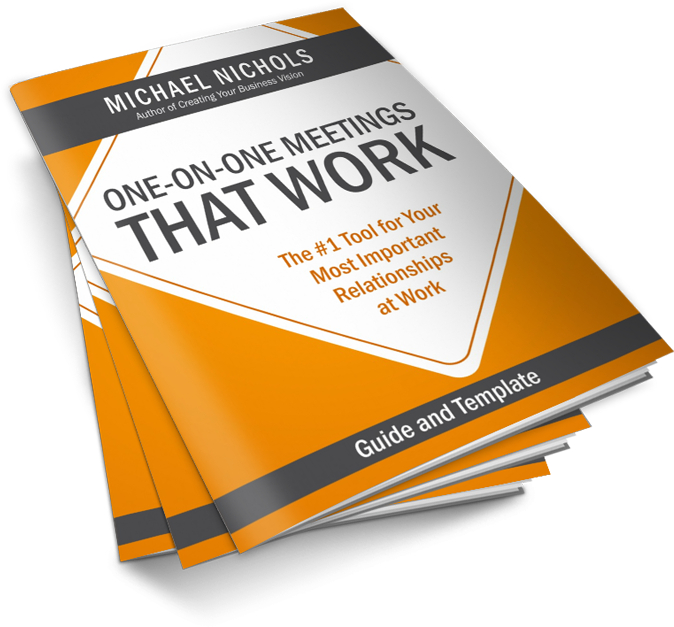 If you missed the announcement, you can read it here – One-On-One Meetings that Work – NEW Template!
What people are saying
WOW!  Super helpful! Great guidance and practical strategies. As someone who participates in a weekly meeting with my supervisor, this will be a powerful tool to help me guide the meeting better from my side of the desk.  Chad Miller, Finance Manager
I like the structure that the template provides – meet at a regular time and 30 minutes maximum. This requires both parties to prepare for the meeting and keeps it from being a time waster. I love the challenge to prepare to listen and follow-up after them meeting.  Todd Linder, Executive Director
I really like the meeting agenda for team members that you provide as a part of the guide and template. And love the idea of more frequent one-on-one meetings, especially for the purpose of assessing work flow.  TJ Ward, Lead Pastor
I love the list of specific questions in each area.  As a manager, this template could help me tremendously make better use of my meeting planning time because I have somewhere to start instead of starting from scratch.  Dennis Scheidt, University Director
The guide is extremely helpful – both for leaders to use to prepare for one-on-one meetings, and for team members to use when their boss hasn't provided an agenda to help them prepare for One-on-One Meetings.  Paul O'Rear, Author
A great guide! I loved the sample questions!  Lindsey Hartz, Executive Assistant
I like the three categories that make up the guide and template. They're valuable principles to follow for a good meeting. And I really like the action plan portion.  Great tool!  Matthew Heavener, Director of Development
I particularly found the section on listening important. In far too many settings the leader is a poor listener. Yet the ability to listen well is the mark of the most respected leaders. I love your structured plan for the meetings – a terrific tool! And immediate follow-up is brilliant – it is another area where too many in leadership fall short.  Tammy Condray, College Professor
Excellent! People want to be part of something that's worthwhile. And it's our job as leaders to help them feel worthy and valued in their role. It's very helpful to have a template to use as a guide to get started.  Curtis Barrett, Ministry Leader
New and Improved
Even with all this positive feedback, we've made several updates this week to the downloadable guide and template!
The most significant update is the addition of a Team Member Agenda Form. The download now includes an agenda form that is similar to the agenda I provide to my team members to help them prepare for our meetings.
Here is some of the agenda content:
Accomplishments & Status

 – Bring a list of all current projects, with one or two sentences describing progress and status of each.

Blocked/Waiting on

 – Note any roadblocks that are currently keeping projects from progressing. Describe the roadblock for each in one or two sentences.

To do

 – Make a high-level to-do list of what you would like to accomplish within the next week.

Areas to develop

 – Note areas of personal and professional development and what activities you have undertaken/would like to undertake to develop in those areas.

Goal tracking

 – Review your monthly, quarterly or yearly goals. Note progress – You should be making steady progress toward fulfilling those goals.

Action Plans 

– Record the results of previously established action plans including whether or not they are complete.
Now this new agenda form comes with the template download. You can provide it to your team members to help them prepare for your meetings. Or use it to prepare for your One-on-One Meeting with your boss.
Bonus!
If you purchase the template download and email me your feedback, I'll send you an extra bonus that you can use immediately.
If you like the One-on-One Meetings Template, you're really gonna like the bonus!
So here's all you have to do…
Download the template. At $2.99, it's a no-brainer. I've been told it's worth 10 times that.
Let me know what you think. Send me an

email

 or

leave a comment below

with your candid feedback. What do you like about it? How would you improve it? What would you add? What are your pressing questions?
When I receive your feedback, I'll send you the bonus.
And if you're feeling really helpful, tweet a link to your friends!
They'll love you for it!
Guarantee
Still not sure? I'll make it easy for you. If you are not satisfied with the template for any reason, I will refund the full purchase price. Simply send me an email and tell me what you didn't like about it, and I'll send you the refund.
There. Now there's no reason not to check it out. Get it now.
Question: What do you like about the template and guide? How would you improve them? What would you add? What are your pressing questions?

Share your ideas in the comments.