This month my vision for serving and supporting leaders took a huge step!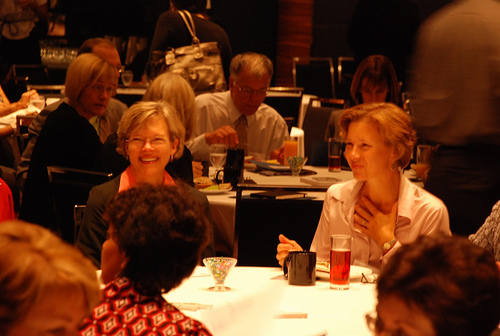 For several years, I have been working toward launching an annual leadership experience for leaders. Like most endeavors, we've made a lot of progress at times. And there were times I thought this part of my vision would die.
Several months ago, I sat at lunch with one of our city leaders talking about how we could better support businesses and organizations in our region.  I mentioned my passion to provide a practical leadership event for leaders and asked for his feedback.
His face lit up as he blurted out – "I've been wanting to do the same thing. In fact tomorrow morning I am meeting with several community leaders to talk about how we can get it done."
The next morning, in a local diner with 5 city and community leaders we drafted a plan. Here's the crazy part – the resulting plan included far more than the annual conference I envisioned. In fact, this month we launched a series of events that will include:
1.  Monthly breakfast. A 30 minute catered breakfast and a 20 minute presentation of proven practices for effective leaders. This event will be hosted the first Wednesday of the month at the Midlothian Conference Center.
2.  Quarterly lunch experience. A 2 hour working lunch that will introduce leaders to simple processes and systems that will dramatically improve their team and organization.
3.  Annual summit. Full-day leadership experience focused on the life and work of the leader – life and work balance, vision, plans, goals, priority management, and decision-making.
Each of these events will be highly practical experiences to provide leaders with simple, yet effective practices, processes, and systems that can be implemented into their work immediately.
As we prepared for our first breakfast event, we planned for 10-20 leaders. 35 showed up! It was one of my most encouraging experiences this year. And this experience reminded me of 6 secrets for accomplishing vision…
1.  Leaders fulfill vision by serving others. It's counterintuitive – it doesn't make sense. The most effective leaders are those who serve. They understand that true success is when your successors are more successful that you. [Tweet that]
2.  No hurry needed. Those moments of waiting are what your life and work are all about – embrace the adventure that is the in-between.
3.  Keep sharing it with the right people. There will be many who listen. Some who like it. Few who support it. And very few who help make your vision a reality. But you'll only connect with them if you keep telling your story and sharing your dream.
4.  Be prepared for it to take off. To be honest, I wasn't fully ready for this part of my vision to take off this quickly. And that's ok – you'll never be 100% ready for anything. That's the adventure of leading change. Everything is an experiment. So while you never know when it's going to happen, expect it when you least expect it.
5.  Stop and celebrate along the way. To have 2 to 3 times the anticipated attendees show up at an event is a huge win – as long as you have enough food. And we did. After the last person left, we sat down for 30 minutes and discussed the event. Much of the conversation was celebrating the successful experience.
6. Vision is never accomplished, only fulfilled. If your vision is big enough, you'll never be able to fully accomplish it. But you can fulfill it every day. Make it a habit every day to take one step – no matter how small – toward your vision.
So here's the question: What are you going to do today to take a step toward your vision? Leave your ideas in the comments.